About us
DMK, Established in 2006, DMK Transport entered into the sphere of logistic and moving services as a Transport service provider. Today, we have broadened our area of operation and have come a long way in various other aspects, associated to cargo, transportation and warehouse .which makes our customers' and ours transportation work much smoother.
Now, DMK Transport (Pvt.) Ltd. is one of the well-known, leading transport service providers in Sri Lanka, with more than 125 trucks under operation. DMK organizations have 12 years of experience in transporting & logistic services. As a recognized transport company, we never involve in any illegal business and we assure we can provide excellent services.
Camso-Ladstar tire companies Ltd
CHEVORAON PLC
Chevron PLC.
Uniliver Ceylon Ltd
SATHOSA Organization (CWE)
COCA COLA Beverages Ltd
Ceylon Oxygen Ltd.
MAS Holdings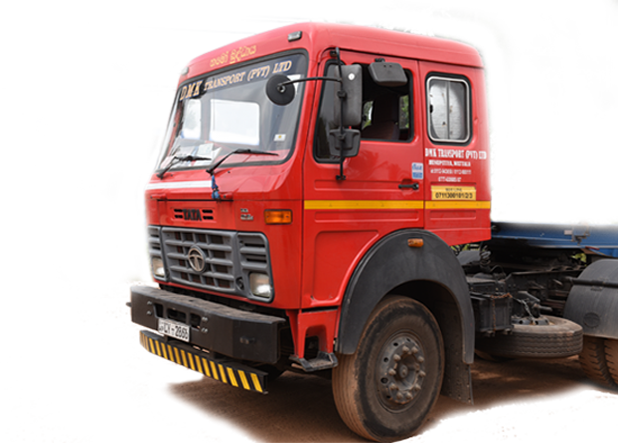 Assuring our best of services at all times, we remain anticipating your fullest support and cooperation.
No matter if your cargo is large or small or you need a regular service or just a one transportation service from your location to all over the country, we can offer your transportation solution from port to your location (port to your factory etc.) and your location to port and any kind of local transportation and value added service, warehousing including professional level drivers & other staff.
Further, as a local transporter, we have sound knowledge & experience to provide reliable & more effective services at a competitive cost.
Vision
To be the best & largest Logistic service provider in SriLanka
Mission
Aim to achieve our vision through
Introducing new business practices in transportation
Being reliable, economical, & safe ways of transportation
Adding more & more trucks to the fleet
Providing cost effective solutions for all clients